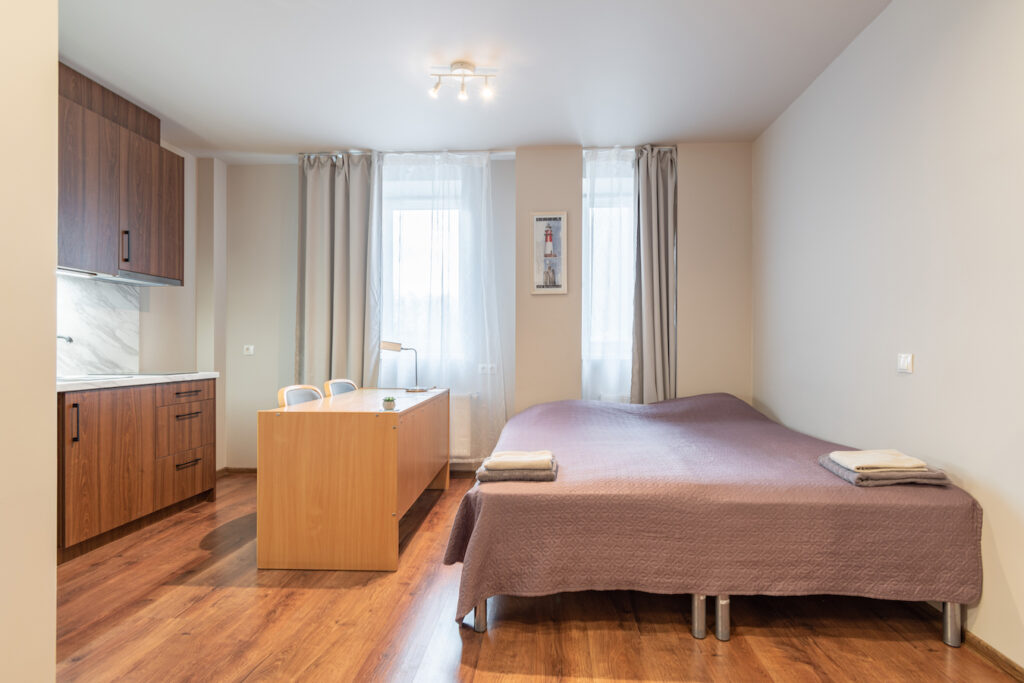 Accommodation in riga for companies for short-term and long-term rent: RVR Smart Apart Hotel. When it comes to accommodating your company's workers in Riga, finding a place that seamlessly blends comfort, convenience, and business-friendly amenities is paramount. Enter RVR Smart Apartment Hotel – a game-changer in the world of corporate stays. In this blog, we'll explore what sets RVR Smart apart and why it's the ideal accommodation choice for companies seeking a home-away-from-home experience for their employees in the Riga.
RVR Smart Apartment Hotel offer Corporate Accommodation. RVR Smart stands out among the myriad of accommodation options in Riga, offering a unique blend of sophistication, practicality, and business-centric features. Located strategically in the city business center, this apartment hotel is designed to cater specifically to the needs of corporate travelers, making it an exceptional choice for companies sending their workforce to the Latvian capital.
The Ultimate Accommodation Solution for Companies in Riga: RVR Smart Apart Hotel.
Tailored Apartments for Extended Stays:
RVR Smart goes beyond the standard hotel room, providing fully furnished apartments that offer a sense of space and comfort. The thoughtfully designed interiors create a conducive environment for both work and relaxation.
Flexibility and Cost-Effectiveness:
Business trips often come with unpredictable timelines, and RVR Smart understands the importance of flexibility. The apartment hotel offers tailored solutions for extended stays, providing a cost-effective alternative to traditional hotels. This flexibility is not only budget-friendly but also allows for a more collaborative living arrangement for your team.
Central Location for Business Convenience:
RVR Smart is strategically positioned in the business heart of Riga, providing easy access to key business districts, transportation hubs, and cultural attractions. This central location minimizes commute times, allowing your employees to focus on their work while enjoying the convenience of having the city at their doorstep.
Business-Centric Amenities:
Understanding the unique needs of business travelers, RVR Smart is equipped with amenities designed to enhance productivity. High-speed internet, dedicated workspaces within the apartments, and on-site meeting rooms contribute to creating a seamless work environment, ensuring that your employees can stay connected and focused throughout their stay.

In the competitive landscape of corporate accommodation in Riga, RVR Smart Apartment Hotel stands out as a beacon of comfort, convenience, and practicality. Elevate your employees' business travel experience by choosing RVR Smart, where every detail is meticulously crafted to provide a seamless blend of work and relaxation. Redefine your approach to corporate stays in Riga with RVR Smart – your key to a home-away-from-home in the this vibrant city.
If you have any further questions regarding our rental options or would like to inquire about pricing rates, please don't hesitate to contact us via info@rvrsmart.com or phone call +37127051333.